Dear Members, How can I create a Kompoz Background Skin & Banner?

Thnx In Advance Bommie
---
So, I decided that I'd upgrade my cables. They are after all the way the music gets from my instrument to my amp. I'd researched and laughed at the prices I'd seen... there is an $800 3 ft instrument cable out there guys... dig that! Never in a million years, thanks. The prices go up from there too.
I'll be honest, I didn't think that I would be happy spending this much $ on a cable. I entered this with a bias even. I just couldn't see how it would make a noticeable difference.
Unfortunately, there isn't much "hard" data out there to support the claims of all these cable folks. I've seen NO graphs of the actual spectral response or timing when compared to a cheaper cable and just to be honest, I wasn't gonna provide any either. That would just be too much work today lol.
I thought I should just get one and try it side by side with my "el cheapo" cables and some good old CL2. I prefer a 20 ft cable, so that's where I started. Now, I wasn't gonna pay $120+ for a dang cable. That just sounded stupid to me.
I looked around at prices and decided that I'd just build my own. I've been an A/V installer for years and am not at all afraid of soldiering. I started hunting cable and connectors. I found a place called the Tubedepot that sells really nice cable and connectors. Called them up, made my order of 20ft of Mogami 2524 instrument cable, 2 Amphenol 1/4 connectors, a little heatshrink, some soldier and 25 ft of "snakeskin" in black to cover the outside of the cable.
I later discovered that Tubedepot is in Memphis (where I live) so I decided to go pick up my order. I know, I'm impatient but my curiosity had been piqued. I got there and saw that I had a friend that worked there.... nice (translates into discount). Unfortunately, the guy that packed the order, messed it up. I had to go back and get the right stuff.
Eventually, I made it home and started to assemble the cable. The Amphenol connectors were AWESOME and built like a tank. The I HIGHLY suggest this sort of connector. The Mogami wire was a work of art. The copper was beautiful, it has an extra insulator and extra ground, the wire was beautifully wrapped and the jacket was sturdy. The snakeskin (called techflex) was very nice... better than the Panduit alternative and heatshrink is just that lol.
When I was finished, I was very happily surprised with the outcome (before I plugged it in even). The cable was heavy... it felt WAY more substantial than my store bought "el cheapo".
Here's the interesting part: I started the aural test with "El Cheapo". It's what I'm used to hearing and have been using for a long time. I'm going straight from my bass to the effects return on my amp (bypassing the amp's EQ, pre, and compression). I thumped around for a bit and went to the Mogami. At first, I couldn't really tell if it was the same or not. I swapped back and forth a few times and came to this: It's not the same... There were more of the extreme highs and lows coming through, the over all balance of tonality was more smooth.
My conclusion is as follows: If you want a new school bass tone, use a new school cable. They transmit more of what you want/need to hear. If you want an old school tone, use an old school cable. All in all, it is subtle but it's just not the same.
At the end of the day, I have what is about $120 dollar cable that I put together for $43 and have some shrink and soldier left over. I'll certainly be making more. I suggest that you guys do the same thing as opposed to buying them. Heck, drop me an extra $20 and I'll do it for you. You'd still come out @ half price.
Now it's time for me to test speaker cables. I don't believe that the difference will be as profound just based on the gauges, power and distance. I've been wrong before though ;)
---
7 musicians kicked out of the band they helped start By Danny Gallagher
published in The Week
Cocaine is a hell of a drug
The longstanding feud between Stone Temple Pilots lead singer Scott Weiland and, well, the rest of the Stone Temple Pilots came to a head when the band recently announced that Weiland had been fired. No one was more shocked by the news than Weiland, who responded that he plans to fight the firing because he's "not sure how I can be 'terminated' from a band I founded." The move might not make sense to him right now, but if rock and roll's rocky history holds any legal precedent, he may not have as strong a case as he thinks.
Here, 7 musicians who were kicked out of the bands they helped found:
1. Brian Jones from The Rolling Stones
This founding member and guitarist for the legendary British rock band had a tumultuous relationship with drugs, drink, dames, and just about every other dangerous vice that has been featured in the hallowed annals of rock. Jones was one of the band's driving forces in the early days, and his playing and demeanor helped define the band's style and image. But over time, his partying became too difficult to control. He became so "unmanageable" that the band kicked him out in 1969; a month later, he was found dead in his swimming pool. His death was ruled an accidental drowning due to the significant amount of alcohol in his system, but conspiracy theories abound that Jones was actually murdered.
2. Steven Adler from Guns N' Roses
The founding drummer of the popular hard rock band found himself jobless when his bandmates kicked him out of Guns N' Roses in 1990. Lead guitarist Slash blamed Adler's termination on the usual suspects: "With Steven, it was sex, drugs and rock and roll. It was all he lived for. Then it was drugs and rock and roll. Then it was just drugs." Adler tried to sue the group, but his drinking and drugging got so bad that he almost "stroked out" from a cocaine binge. He told Rolling Stone that he didn't get sober until 2008, crediting his successful rehab to an appearance on Dr. Drew Pinsky's "Celebrity Rehab." He called it "the best thing I ever did for myself."
3. Glen Matlock from The Sex Pistols
The infamous British punk band fired its bass player in 1977, allegedly because of his love for another British band: The Beatles. At first, Matlock and the group said the split was amicable, but the group's manager Malcolm McLaren later told a different version of the events. McLaren told reporter Derek Johnson that Matlock was sacked because "he went on too long about Paul McCartney," and "The Beatles was too much." Matlock went on to play with Iggy Pop, Frank Black of Pixies, and even Sid Vicious, his replacement with The Sex Pistols.
4. Dave Mustaine from Metallica
The heavy metal behemoth's guitarist only lasted a year in the group. Mustaine joined in 1982, and helped establish the band's unique style and sound, but his addictions took a toll on his bandmates. The rest of the band decided to kick him by telling him that they had bought him a Greyhound bus ticket instead of a plane ticket to their next gig. Lars Ulrich joked in the band's biography, "Not only was he out of the band, but he had to sit on a bus for four days and think about it!" Mustaine went on to find success as the founding member of another iconic metal group, Megadeth. He also said in a recent interview that he holds no ill will against Metallica. "I still like [singer James Hetfield]. I don't like Lars, but I still like him." SEE MORE: Why the confirmation of Obama's new EPA chief might get nasty
5, 6 and 7. Brian Wilson, David Marks, and Al Jardine from The Beach Boys
One of pop rock's most memorable and beloved groups has also had one of its rockiest histories. Just as the group was celebrating their 50th anniversary, singer Mike Love announced that longtime bassist and songwriter Brian Wilson and guitarists David Marks and Al Jardine would not be joining him on the rest of their 50th anniversary reunion tour. Wilson was perplexed by the announcement, and said in an interview that it "feels like we're being fired." Love denied the move as a "firing" in a letter published in the Los Angeles Times.
======================
---
my blog is currently empty
---
I want to publically thank Pascal for helping to produce a great mix for my band. I challenged him with low-quality tracks and he somehow managed to make it sound great!
You should hire Pascal for you next project. He's that good. Oh, and he's an incredibly talented musician and a helluva nice guy. Have a listen to our cover of Santeria.
---
Not sure if anybody reads these...? I know I don't have a lot of time to read everyone else's. We are all busy...
I would like to say hello to the friends I made since I joined Kompoz.
And for those I've been out of touch with, I would like to say this:
I have had a really rough couple of years (decade really) and am now finally finding myself able to participate in a community again.
I haven't had a suitable space to create music for quite some time.
There was disruption and turmoil in my life. Yet, I also experienced the most healing and incredible times I've ever known on a scale I never knew possible.
Kompoz played an integral part in me being where I am right now -
So, I'd like to give thanks to Kompoz. Your site is an amazing game-changer.
I've met the most amazingly talented people I've ever known and keep finding more.
Thanks for keeping it alive.
---
I came across this little ditty last night, and just wanted to share it with all you fusion/anything goes fans...both of you... :)
I would never have thought of a political rant, and writing the melody around the inflection tones of the voice....brilliantly done..
Problem is..our politicians are SO bland, and regurgitated, that they lack the passion of the words they spew, to get anything musical out of them....
Enjoy...and go get another cup of coffee. :)
btw...for all you keen timing-ists....that's the time sig in the bottom left corner
---
I usually use my mother's paintings as artworkd for my Kompoz albums. This is an artwork that she painted for a friend that is a huge Uirah Heep fan. There are many ideas used here from different Uriah Heep album covers. Roger Dean painted lots of their covers. I thought about using this picture as one of my album covers.
Is it OK legally?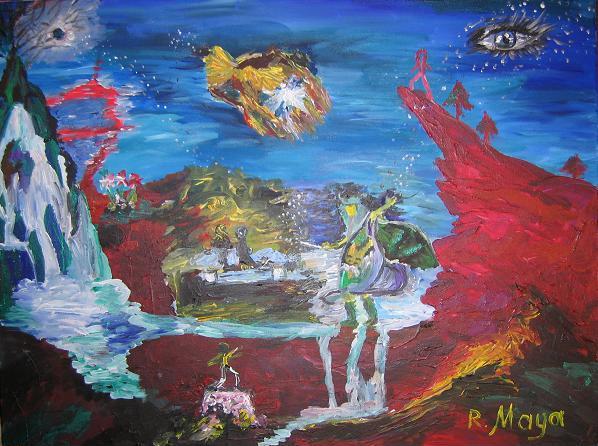 ---
Five of the (US) country's leading internet service providers (ISPs) are taking part in the Copyright Alert System (CAS), which they say is designed to educate rather than punish users.
Suspected persistent copyright infringers will receive six warnings, after which their internet access may be limited but not cut off. Verizon, Time Warner, Cablevision, Comcast and AT&T are all taking part in the initiative, which is co-ordinated by the Center For Copyright Information (CCI) - a group representing rights holders in the media industries.
Meanwhile the UK has favoured a proposed "three strikes" policy.
(Source: BBC News Website - Technology 26th February 2013)
---
Recent Posts
•
Interview with Peter - Harpline :)


Thu, May 23, 2013 • 01:53 PM UTC



•
Bjorn


Thu, May 23, 2013 • 01:52 AM UTC



•
Every Noise At Once


Wed, May 22, 2013 • 10:22 PM UTC



•
Teach an old dog some new tricks


Wed, May 22, 2013 • 10:52 AM UTC



•
Recording 101


Tue, May 21, 2013 • 12:02 PM UTC



•
?


Wed, May 15, 2013 • 10:01 PM UTC



•
Kompoz via the International Space Station?


Tue, May 14, 2013 • 12:54 PM UTC



•
Talk To The Talon


Tue, May 14, 2013 • 12:00 AM UTC



•
24 miles north of Manchester...


Sat, May 11, 2013 • 05:34 AM UTC



•
Conversion conversation


Fri, May 10, 2013 • 02:14 PM UTC



•
CC Licenses and Copyright Redux


Tue, May 7, 2013 • 02:24 PM UTC



•
Cmputer Crash


Sun, May 5, 2013 • 01:44 PM UTC



•
If You Think You Need A Condenser, Guess Again


Wed, May 1, 2013 • 02:26 AM UTC



•
Meeting Mike Patterson


Tue, Apr 30, 2013 • 03:26 AM UTC



•
Interview with Alice and Ronggo


Fri, Apr 26, 2013 • 01:00 AM UTC



•
Wicked Lizard


Thu, Apr 25, 2013 • 03:06 PM UTC



•
Barbara Dennerlein B3 master-never seen bass pedals played this good!


Mon, Apr 22, 2013 • 03:55 AM UTC



•
Computer-generated music


Sun, Apr 21, 2013 • 10:31 AM UTC



•
Our latest video clip "Smile When You're Not Happy"


Sun, Apr 21, 2013 • 03:44 AM UTC



•
heavy metal history


Sun, Apr 21, 2013 • 12:48 AM UTC