Allow me to present the"It's Time with Brian Culbertson" collaboration contest Judge's Panel. With a wide range of experiences, our Judge's Panel is truly one of the best we've been able to assemble, with a GRAMMY Winner, a Legendary guitarist/singer/songwriter, an acclaimed music writer, our own Raf Fiol and of course, Brian Culbertson himself. Brian will ultimately select the 1st, 2nd and 3rd place winners.
---
Check out this new album made entirely here on Kompoz!

Our very own UkuleleJim has just released a record called "Fretting the Small Stuff" that contains some great original folk, rock and bluegrass tracks. The album features fellow Kompozers: Lonnie, Phoephus, linomuoio, FIGSOUNDS, RB, harplips, timkat, smokinsteel, MaxEdison, Gee, onemomentspeace, Parametric, FingerFolkie, AndreySevalkin, CraigSteen, and bjorn!

You can listen to the album over at Jim's website www.ukulelejim.net. You can also download it for 50% off by using the discount code "kompoz" on checkout (good until the end of the year)!

Give it a listen, won't you?
---
Lewitt-Audio & The LCT 640

Look at what our new friends at Lewitt-Audio have so generously added to the contest Prize Pool. Special thanks to Edwin Oliver and Steffen Grachegg, with Lewitt-Audio and of course, Brian Culbertson.

Music is passion. Inspiration. Messenger.

And music deserves to be heard. Unaltered. Authentic. Memorable.


---

Our friends at Roland go 3 for 3 with the latest prize for the "It's Time with Brian Culbertson" collaboration contest.... Check this one out!
R-05: WAVE/MP3 Recorder
Affordable Pocket Recorder with Advanced Features
Features
The compact R-05 is easy to use, affordable, and packed with big-ticket features that raise the bar in its price class. Experience crystal-clear 24/96 capture, enhanced recording and editing features, and extended battery life (over 16 hours per charge). On stage, in rehearsal, at school, on the street, in the boardroom — whenever inspiration strikes, let the R-05 capture the moment with convenience and quality.
High-quality stereo recording (24-bit / 96kHz) with the built-in stereo mic or external input
Records directly to SD card with extended battery life (over 30 hours continuous playback, over 16 hours continuous recording)
Record 16-bit WAV and MP3 files simultaneously
Strong, attractive metallic exterior
Onboard editing functions; built-in reverb
Music-practice features (change tempo without changing pitch, loop playback, etc.)
Auto record start, auto song split, auto level adjust
Pre Record function (captures 2 seconds of audio that precedes pressing REC)
Use as a high-quality portable audio player (plays WAV and MP3 files)
Windscreen and tripod mount included
---
One of the treasures lost during the great HDD failure of 2011 has since been recovered!
For you Windows users, MDK has sent me the lastest version of his magical Sync Tone Kompozer, a Windows desktop application which you can use to compose your own custom project sync tones. You can download it from this page.
If you're new to Kompoz, you should definitely read the article on sync tones, and watch the tutorials on that page. Sync tones make collaborations run much smoother.
Thank you MDK!
---
More kool kontest prizes from our friends at Roland - Huge Thanks to Simon Robinson from Roland and of course, Brian Culbertson.....



Lucina AX-09: Synthesizer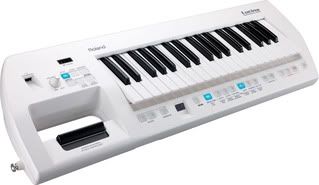 Freedom of Expression
---
I must say, Brian Culbertson has some fantastic relationships with the companies that both support and endorse him. I had an opportunity to speak wiith all the sponsors and they all speak very highly of him. It was such a pleasure for me as I discussed the contest and to what level the sponsors could support Brian and "It's Time" with Brian Culberston.
First up is Roland, and they came though BIG TIME. Simon Robinson, Roland's product manager for the piano division, is giving you lucky Kompozers a chance to WIN some really awesome gear!
Let's start with the Roland RD-300NX Digital Piano:

RD-300NX: Digital Piano



Features
Roland raised the stage-piano bar with the RD-700NX. Today, the world-famous SuperNATURAL® sound and expression of the flagship RD is available at a lighter weight and more affordable price…introducing the RD-300NX. This state-of-the-art stage piano boasts an advanced SuperNATURAL Piano sound engine, E. Piano sounds based on SuperNATURAL technology, a newly developed Ivory Feel-G keyboard with Escapement, a unique Sound Focus feature, and more.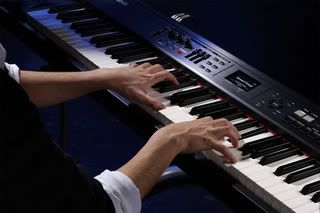 SuperNATURAL Piano sound engine
New E. Piano sounds based on SuperNATURAL technology
Innovative Sound Focus feature ensures that every note will be heard in the mix without compressing or coloring the sound
New Ivory Feel-G Keyboard with Escapement
Intuitive U/I: new One Touch Piano feature and graphic LCD
Hundreds of high quality built-in sounds
Optional RPU-3 triple-pedal unit
More PRIZES to come in our next installment - Crank out the entries Kompozers!
---
---
Yesterday, I received the email below. It's from the firm I had hired, which was attempting to recover the data from the failed drive from our previous hosting company. Alas, they failed.
On the plus side, the lost data did not include any audio files or projects -- it was user profile pics and project artwork only. We should not have that problem again, now that we're hosted in the cloud and we have full redundancy. Still, I had really hoped to recover everything. Sorry guys.
>> Date: October 5, 2011 5:21:47 PM EDT
>> To: "'Raf Fiol'"
>> Subject: DataRetrieval - Case 19024 (Unsuccessful recovery)
>>
>> Raf,
>>
>> Our engineers have recently updated your case and have requested that you are updated. As the last update was that our engineers have handed your case off to our senior retrieval specialists for further efforts in recovering your media. Our senior retrieval specialists have spent several hours attempting to retrieve the data, however they seem to have exhausted their efforts in the retrieval process and have concluded the recovery as unsuccessful.
>>
>> While all physical issues within your media had been bypassed, our senior retrieval specialists cannot keep the drive in an operable stable state to finish a successful, full clone of the volume. The components within the media had been swapped and replaced many times, only to perish when the copy process is resumed. Some clone copies of your drive were retrieved, however they are not full, and hold what our industry calls 'rubbish files'. The senior recovery specialists determined the cause of the constant failure of swapped components to be bad surface damage on the platters of the media that has made it impossible to read off of and unrecoverable.
>>
>> These cases are extremely rare, and we assure you that our team of engineers had done everything in their power to retrieve the data. At this point, you may choose to either have the drive sent back to you at your current billing address, or we may securely dispose of the drive through our NSA certified hardware.
>>
>>
>> Best,
>>
>> Michael
>>
>> www.dataretrieval.com
---
Recent Posts
•
Unofficial K's Gathering Sept' 2013 Florida, USA


Mon, Feb 11, 2013 • 11:15 AM UTC



•
Fresh Staff Picks


Fri, Nov 23, 2012 • 06:38 PM UTC



•
We're Back Online


Tue, Oct 23, 2012 • 09:40 AM UTC



•
Using Tags to Organize Your Projects


Tue, Sep 18, 2012 • 06:58 PM UTC



•
Introducing 'Kompoz Konnect' Mac App


Wed, Aug 8, 2012 • 02:30 AM UTC



•
Facebook Sharing Update


Mon, Jul 30, 2012 • 12:15 PM UTC



•
Study shows Pop music all sounds the same


Fri, Jul 27, 2012 • 01:38 PM UTC



•
New Hire: Voice Professional


Wed, Jul 18, 2012 • 05:16 PM UTC



•
Kompoz Podcast Needs You


Sat, Jul 14, 2012 • 02:47 PM UTC



•
New Project Licensing Options


Wed, Jul 4, 2012 • 03:14 PM UTC



•
Kompoz for Android


Sun, Jul 1, 2012 • 11:24 PM UTC



•
Amazon AWS Outage


Sat, Jun 30, 2012 • 04:28 PM UTC



•
Kompoz Uploader (Windows)


Fri, Jun 29, 2012 • 11:34 PM UTC



•
Kompoz Lab: Sneak Peek


Wed, Jun 27, 2012 • 02:30 AM UTC



•
Fresh Paint


Wed, Jun 20, 2012 • 02:45 PM UTC



•
Your Kompoz Profile Changed


Sun, Jun 17, 2012 • 03:32 PM UTC



•
Kompoz Hearts Dropbox


Thu, Jun 14, 2012 • 12:37 PM UTC



•
Kompoz HD


Wed, Jun 13, 2012 • 04:15 PM UTC



•
Profile Shortcuts


Tue, Jun 12, 2012 • 12:18 PM UTC



•
Passwords Are So 'Last Week'


Mon, Jun 11, 2012 • 12:10 PM UTC