---
Yesterday, while on the road, I had a need to edit an audio file which I recorded using my digital camera. OK, stop laughing -- it was an impromptu situation. So I had my laptop with me, but I was away from the Home Studio, and thus could not use Pro Tools to do the job. Pro Tools will not run unless the hardware interface is connected -- very annoying.
So I downloaded the latest version of Audacity and installed it within minutes. I chose to download beta version 1.3.3 for the Mac, which offers a Universal Binary version for my Intel-based MacBook Pro. The installation went smoothly and everything worked the first time with no tweaks or complicated configurations.
Let me just say that I was very impressed!
Until yesterday, I had not used Audacity in well over a year, having only briefly experimented with it on my Windows XP machine. At that time, Audacity did not have the features I needed for any serious audio work.
Today I spent a little more time playing with Audacity and discovered that there is a VST bridge which allows you to use VST plug-ins with Audacity. Wow! Audacity, of course, is free, open source software. Couple that with the hundreds of free VST plug-ins and suddenly it's a real DAW contender.
If you're using Audacity, please share your comments. Are you using it with the VST Bridge?
---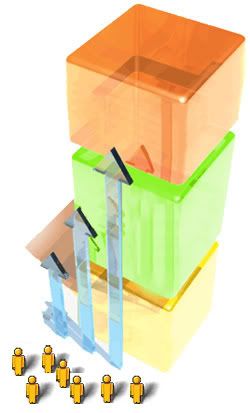 I'm excited to see and hear the many new projects created each day. I wish there were more hours in the day, because I'd love to jump in on most projects and contribute a track or two. I'm sure many of you feel the same.
I'm almost overwhelmed trying to keep track of all the projects currently underway. New songs come in to Kompoz, and they appear on the home page for a short time. But once they "fall off" the home page, some potential gems sometimes receive little further attention because they get lost in the steady stream of new projects.
Which got me to thinking... Would it make sense to create a funnel or workflow of some sort to focus our collective energies on a handful of featured projects each week? Maybe create a new page where we highlight a song or two from each channel, and nurse those songs to a point where they are healthy and active -- a sort of "Let's all work on these songs" kind of page. Once a song has momentum, then it can be left to develop on its own, and a new song can be featured. I see this new page as sort of an incubator.
Of course, there are some interesting problems to solve. Who decides which projects are to be featured? How long should a project that receives no attention remain in the incubator before it is replaced by something new?

I'd love to hear your thoughts! Is this an idea that has merit? Are there other problems in this model? How would you solve the stated problems? What features would you like to see?

---
I came across this way-cool video of Brian Stezer (of Stray Cats fame) playin' some honkin' rockabilly guitar. I was so impressed (and depressed that I'll never be able to play like that) that I just had to post. Enjoy!
---
As you may have read, a new feature was added to Kompoz, which allows you to add a comment to another member's profile. Here's a quick video I put together to demonstrate the process.



Credits: Background music is Fade Out by castlebuzz and rgriscom.
---
Brian May, guitarist for super-group Queen, is completing his studies in Astrophysics. He is expected to earn is Ph.D after completing his thesis titled "Radial Velocities in the Zodiacal Dust Cloud".
May arrived on the island of La Palma in Spain's Canary Islands several days ago to conduct astronomical observations in support of his thesis, according to a statement by the Institute of Astrophysics of the Canary Islands.
May was studying astrophysics at Imperial College when he formed Queen with singer Freddie Mercury and drummer Roger Taylor in 1970. He dropped his doctorate research as the band met with increasing success.
---
Here's another great find from HomeTracked (two in one day -- they're making my job easier!). In this post, Des lists some great free VST plug-ins, useful for processing vocal tracks.
He illustrates the tools very effectively by first posting an un-processed vocal track. He then walks through the following processing chain: De-ess -> Gate -> EQ -> Compression -> Tape saturation -> Reverb, complete with screenshots as illustrations. And finally he posts the new modified track, after the effects have been applied.
Here's the before track:
And the after track:
At the very end of his great article, Des includes a link to the AudioMastermind database of free VST plug-ins. Wow!
---
Des McKinney, the editor for Hometracked, recently performed a sound test comparing drums recorded in two very different room configurations, each time using the same equipment. He was kind enough to publish his findings and share his recordings for all to hear.
Great drumming, by the way.
Des recorded in a Muskoka cottage with 14-foot cathedral ceilings and all-pine interior, and then later in his home studio. He used the exact same drum kit and mic configuration in both environments. He published four recordings, two in each environment.
Listen to the differences on his blog post.
He found that the clearest differences are the snare drum, which sounds much bigger in the larger room, and kick drum, which sounds like a different drum altogether in each recording. The end result? The drums sound a little more natural in the high-ceiling, all-wood room. So the space matters, obviously.
---
How many ways are there to record a guitar? I've experimented with several different approaches in my home studio, including using an Active DI Box; using a hardware virtual amp (such as the Line 6 POD or Behringer V-Amp 2); using real mics on a real amp; and using software plug-ins.
As you might expect, there are pros and cons to each approach, and I'll discuss each in more detail in a follow-up blog post.
My current favorite technique is to use a a software plug-in, completely bypassing my real amp. As of late, I've been using IK Multimedia's AmpliTube 2 Electric Guitar Amplifier and Effects Modeling Plug-in Software . I used it on my recent post to Good Thing Jam #2.
The most obvious advantage of a guitar amp software plug-in is that it comes loaded with zillions of different presets, including tons of cool "signature" sounds, such as the famous Carlos Santana Mesa sound, or the SRV sound, Cream, Hendrix, and many more. Imagine having to buy all of that real-world equipment!
Switching between presets is easy. Click on the drop-down and choose from the list. You can also tweak the tone, gain, volume, reverb and other knobs, just like you would on your real amp. Just point and click. Check out the video below to see and hear a demonstration.
Perhaps one of the most non-obvious, overlooked advantages to using a plug-in is that it allows you to change your mind. For example, you can go back to a recorded track and change the amp without re-recording your killer solo! That's huge! If I use my real amp with a real overdrive pedal and a real echo box, then record that with a real mic, I'm stuck with that sound. There's no way to remove the echo box or overdrive. But with the plug-in, your guitar signal is separate from the plug-in. I can go back, try a different amp sound, add virtual stomp boxes, add reverb, remove the echo box, etc.
I highly recommend Amplitube 2. It's not cheap, but if you consider the fact that you're buying a few Marshall stacks, Mesa Boogies, and more, it's not that bad. Take it for a test spin - download the trial version for 30 days.
---
Recent Posts
•
Unofficial K's Gathering Sept' 2013 Florida, USA


Mon, Feb 11, 2013 • 11:15 AM UTC



•
Fresh Staff Picks


Fri, Nov 23, 2012 • 06:38 PM UTC



•
We're Back Online


Tue, Oct 23, 2012 • 09:40 AM UTC



•
Using Tags to Organize Your Projects


Tue, Sep 18, 2012 • 06:58 PM UTC



•
Introducing 'Kompoz Konnect' Mac App


Wed, Aug 8, 2012 • 02:30 AM UTC



•
Facebook Sharing Update


Mon, Jul 30, 2012 • 12:15 PM UTC



•
Study shows Pop music all sounds the same


Fri, Jul 27, 2012 • 01:38 PM UTC



•
New Hire: Voice Professional


Wed, Jul 18, 2012 • 05:16 PM UTC



•
Kompoz Podcast Needs You


Sat, Jul 14, 2012 • 02:47 PM UTC



•
New Project Licensing Options


Wed, Jul 4, 2012 • 03:14 PM UTC



•
Kompoz for Android


Sun, Jul 1, 2012 • 11:24 PM UTC



•
Amazon AWS Outage


Sat, Jun 30, 2012 • 04:28 PM UTC



•
Kompoz Uploader (Windows)


Fri, Jun 29, 2012 • 11:34 PM UTC



•
Kompoz Lab: Sneak Peek


Wed, Jun 27, 2012 • 02:30 AM UTC



•
Fresh Paint


Wed, Jun 20, 2012 • 02:45 PM UTC



•
Your Kompoz Profile Changed


Sun, Jun 17, 2012 • 03:32 PM UTC



•
Kompoz Hearts Dropbox


Thu, Jun 14, 2012 • 12:37 PM UTC



•
Kompoz HD


Wed, Jun 13, 2012 • 04:15 PM UTC



•
Profile Shortcuts


Tue, Jun 12, 2012 • 12:18 PM UTC



•
Passwords Are So 'Last Week'


Mon, Jun 11, 2012 • 12:10 PM UTC