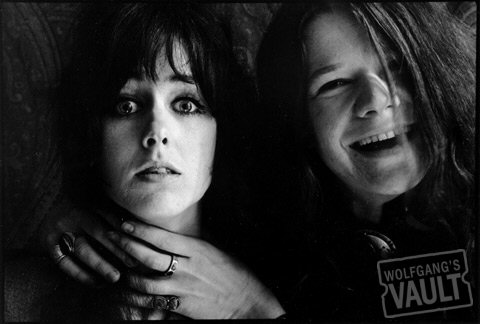 Joel sent me this link a little while back. Wolfgang's Vault is a pretty cool site for music historians and collectors.
As stated on the site, "Wolfgang's Vault is the world's most exceptional collection of poster art, vintage t-shirts, concert photos, concert tickets and other rock music memorabilia. The Vault's holdings feature the complete archives of legendary rock impresario Bill Graham, whose headliners included Johnny Cash, Lynyrd Skynyrd, Janis Joplin, Aerosmith, Jefferson Airplane, AC/DC and Phish."
As a classic rock fan, I was immediately drawn into the site. I spent way too much time checking out the wares. There are some great posters and cool t-shirts I'd love to own.
---
Back in April, Martin and Rasmus, two students at the University Copenhagen, surveyed Kompoz members, seeking to better understand the dynamics and nature of online music collaboration. They also started a project on Kompoz (and on other sites) to immerse themselves in the practices of online collaboration.
They published their findings in a 52 page paper last month. Their research explores the pros and cons of "remote asynchronous" collaboration in the context of online social networking. It's a great document that features Kompoz throughout.
Read the document if you get a chance. I found the survey, which asked members why they collaborate online, the most interesting.
---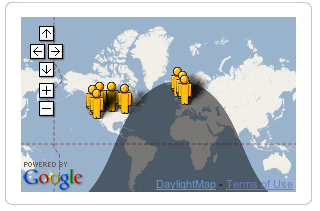 Did you notice? We added Daylight Maps to Kompoz over the weekend. Our maps now show a real-time pattern of day and night so that you can see if the people with whom you are collaborating might be sleeping!
---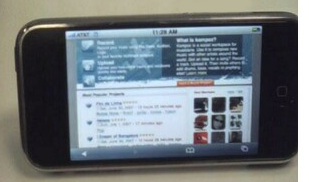 I dropped by the AT&T store today and got a chance to mess around with the iPhone for the first time. I gotta say -- very nice! (read with a Borat voice) The picture on the right is Kompoz as it appears on the iPhone. It was taken with my crappy Sanyo cell phone, which is why the resolution is so poor.
Overall, the Web browser experience on the iPhone is tremendous for such a small device. I really like the touchscreen interface, which made scrolling and zooming very easy. On the down side, the built-in Safari browser does not support Flash, so none of the playback features of Kompoz function. We'll start looking into other options. Direct links to the MP3 files may be the simple solution.
Unfortunately, but not unexpectedly, they were out of stock, so I left with my old Sanyo, which now feels like a complete relic.
---
According to Wired, the earliest known musical recording was made on this day, June 29th 1888, on a paraffin cylinder (wax). 119 years later, we're exchanging digital files across thousands of miles at light speed. That's pretty cool.
Kompoz in 1888
Letter dated June 29, 1888 to Stuart Cardell
Dear Stuart,
I hope this letter finds you well. In a separate parcel, I have enclosed a paraffin cylinder with a recording I made of myself playing the lute for a new score I've named "Good Thing". The parcel was sent on a merchant ship, which departed from the United States of America this morning. She is a fine vessel, and barring any pirates, hurricanes, or other misfortunes, should arrive in port in Sydney within four to six months. Friend, would you please listen to my lute? If it is to your liking, please record yourself (on a new cylinder) singing, while at the same time playing back my cylinder on a second talking machine. Forward that new cylinder containing both your wonderful vocals and my lute to our mutual friend Jipes in Mulhouse, France, and ask him to repeat the process by adding his musical contributions. Stuart, within only two to three years, we should have a finished composition!
Your Friend,
Raf
---
Today is iPhone day in the US. The iPhone will go on sale at 6:00 PM local time. I won't be camping out for one, but I will certainly pick one up after the hype dies down a bit. Maybe I'll do the smart thing and wait for iPhone 2.0.
Who am I kidding? I'll probably be standing in line tonight with the rest of the nerds.
Here's a great and very entertaining video posted by David Pogue of the NY Times.
[via VC Blog]
---
A while back, Rick posted a picture and forum message about a Cigar Box guitar he had made. Before his post, I had never seen or heard of one. Then today I received an e-mail from my favorite guitar supply store, Stewart-MacDonald, detailing the steps needed to create a custom pickup for your Cigar Box guitar.
I don't think I'll be manufacturing a pickup anytime soon, but the article on how to do it was fascinating. Erick Coleman borrows from the design of a Gibson P-90, which is designed for a standard six-string. But since he's building for a three-string, he names his pickup the P-45.
If you've ever wondered about the basic mechanics of a pickup, read this very interesting article.
Couldn't resist including this YouTiube video:
---
As you've probably heard (pun intended), Internet radio stations went silent for a full day on June 26th (this past Tuesday) to protest increased royalty rates the sites will be forced to pay beginning July 15th. Thousands of Webcasters around the world, including Yahoo! Music, Pandora, and MTV participated.
Many of the sites have said that the tripling of rates will shut them down. And the larger stations have said that they will be forced to change their business models, which will end up curtailing the great diversity that makes Internet radio uniquely compelling.
Yahoo Music says "I think we'd all be terribly sad to see Internet radio start to sound more like terrestrial radio with its limited number of stations playing very limited playlists."
I personally am on the fence about this issue. I enjoy the great diversity of music available online, but I also think that ultimately the artists and the labels are due their contractual royalties. Why should the rules for an over-the-wire (Internet) business be any different than those of an over-the-air (FM, XM, etc.) business? There should not be a double standard.
A Silver Lining?
The good news, if there is any, is that this may force Internet broadcasters to seek alternate content, such as open source music with licensing models like the Creative Commons. That's good for us, the indie artists - the members of Kompoz. This will open new doors for you.
You are the future of the music business. You are creating music the way music was meant to be created.
Did you participate in the Day of Silence? What are yor thoughts on this issue?

---
A few weeks back, I reported that MDK was featured in a blog post on Portfolio.com, a Conde Nast publication. Yesterday, Kresling was also mentioned for his work on the same project. Kresling added some far out backing vocals on this far out (far East) song.
The project, I Dream of Bangalore, is a song with an Indian musical theme about love in the age of outsourcing. Portfolio is a brand new Conde Nast publication all about business, technology, money, culture, and related topics.
---
Recent Posts
•
Unofficial K's Gathering Sept' 2013 Florida, USA


Mon, Feb 11, 2013 • 11:15 AM UTC



•
Fresh Staff Picks


Fri, Nov 23, 2012 • 06:38 PM UTC



•
We're Back Online


Tue, Oct 23, 2012 • 09:40 AM UTC



•
Using Tags to Organize Your Projects


Tue, Sep 18, 2012 • 06:58 PM UTC



•
Introducing 'Kompoz Konnect' Mac App


Wed, Aug 8, 2012 • 02:30 AM UTC



•
Facebook Sharing Update


Mon, Jul 30, 2012 • 12:15 PM UTC



•
Study shows Pop music all sounds the same


Fri, Jul 27, 2012 • 01:38 PM UTC



•
New Hire: Voice Professional


Wed, Jul 18, 2012 • 05:16 PM UTC



•
Kompoz Podcast Needs You


Sat, Jul 14, 2012 • 02:47 PM UTC



•
New Project Licensing Options


Wed, Jul 4, 2012 • 03:14 PM UTC



•
Kompoz for Android


Sun, Jul 1, 2012 • 11:24 PM UTC



•
Amazon AWS Outage


Sat, Jun 30, 2012 • 04:28 PM UTC



•
Kompoz Uploader (Windows)


Fri, Jun 29, 2012 • 11:34 PM UTC



•
Kompoz Lab: Sneak Peek


Wed, Jun 27, 2012 • 02:30 AM UTC



•
Fresh Paint


Wed, Jun 20, 2012 • 02:45 PM UTC



•
Your Kompoz Profile Changed


Sun, Jun 17, 2012 • 03:32 PM UTC



•
Kompoz Hearts Dropbox


Thu, Jun 14, 2012 • 12:37 PM UTC



•
Kompoz HD


Wed, Jun 13, 2012 • 04:15 PM UTC



•
Profile Shortcuts


Tue, Jun 12, 2012 • 12:18 PM UTC



•
Passwords Are So 'Last Week'


Mon, Jun 11, 2012 • 12:10 PM UTC