Raf, Scott, and Simon were interviewed by the Tim "Gonzo" Gordon Podcast Show on Digital Audio World. DigitalAudioWorld.com is written and maintained by Tim "Gonzo" Gordon. Gonzo is a former radio broadcaster who escaped radio in the early part of the millennium, but never completely got it out of his system.
Here is his June 2007 kompoz.com podcast:
You can hear more Gonzo podcasts at DigitalAudioWorld.com
---
Ritchie Blackmore's crunching four-note blues scale melody (harmonised in parallel fourths) is one of the most famous riffs in rock history. Yesterday, 1,683 guitar players turned out to take part in what organizers say was a world record rendition of "Smoke on the Water." The previous record was 1,323 people playing the same song in Vancouver, British Columbia, in 1994.
It got me thinking that maybe we can do a world record for online collaboration. Not sure exactly what that would be yet. Most number of tracks? Most number of people in different countries contributing to the same song? What do you think -- any ideas?
---
---
With apologies to Paul McCartney, you'd think that people would have had enough of silly love songs. Yet here's a great new one with a modern-day Web 2.0 twist. Listen for references to Digg, MySpace, Facebook, YouTube, and del.icio.us. Sadly, no mention of Kompoz in this 1.0 version.
Perhaps my favorite line (full lyrics): "I've got your SSID all I need now is your WEP Key. C'mon girl, everything's gonna be alright." And "I got the key to our love, no DRM's gonna stand in our way."
[via mashable]
---
Give it away, give it away, give it away now.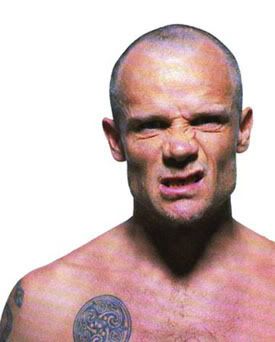 Flea, the Red Hot Chili Peppers' 44-year-old electrifying bassist, will be taking a break from the band to teach at the Silverlake Conservatory of Music, a nonprofit school which Flea co-founded in 2001.
"When we finish touring, in August -- we've been on our world tour for a year and a half -- I'm looking forward to being around, teaching all the time. Bass and trumpet." Flea said in a recent interview with the Associated Press.
When asked why he is doing this; Flea said, "Because the public education school system, music education, has let kids down. I think it's a drastic problem. When I was growing up, in L.A., I went to these schools, Fairfax High School, Bancroft Junior High School, and they had great music departments. I always played in the orchestra, the jazz band, the marching band. I went back six, seven years ago to talk to the music department at Fairfax High, and it was just gone. They had a volunteer teacher, a couple of acoustic guitars. They had nothing going on. It was shocking. When I went there, any kid could grab an instrument and play it. For me, that education was so important. ... At one point, I was nothing but trouble. I was on the street, I was doing drugs, I was breaking into people's houses. Music education gave me something to hold onto. I learned how to read music. It taught me discipline, a sense of self, a sense of accomplishing something."
The conservatory currently teaches 600 students of every age and background among the six studios that rotate users all day long, including free lessons for those who can't afford them. Keeping with Flea's old public school tradition, the Conservatory also provides the instruments for the students to use.
"There are a lot of kids like me who need this. I just wanna give back. That's the whole thing."
---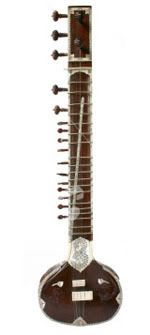 One of our own, MDK, the kazoo-toting prodigy from North Carolina, was mentioned in a Portfolio.com blog post today! MDK contributed a fantastic "ideas track" to a project started by Kevin Maney of Portfolio.
Portfolio is a brand new Conde Nast publication all about business, technology, money, culture, and related topics. Kevin will be writing periodically about his music collaboration experience here at Kompoz. As he put it, "I'm going to try to host an ongoing online music party. You are all invited."
Congratulations MDK, and thank you Kevin. I look forward to hearing this one develop.
---
Today marks the 40th anniversary of the release of the Sgt. Peppers Lonely Hearts Club Band, album. In an earlier blog, I talked about the revolutionary sound engineering that went into this album. The Beatles were clearly breaking new ground, experimenting with new sounds, and re-inventing pop music.
In a post yesterday, Rolling Stone Magazine writes that Sgt. Pepper's is perhaps "one of the most written-about, celebrated, feted, honored and generally praised albums of all time." Over the last 40 years, we've all read review after review, and heard the opinions from every audiophile magazine editor, critic, and publicist. Now Rolling Stone wants your opinion. They want you to submit your own review and correct forty years of reviews by critics who just didn't get it.
[CNN] [Rolling Stone] [msnbc]
---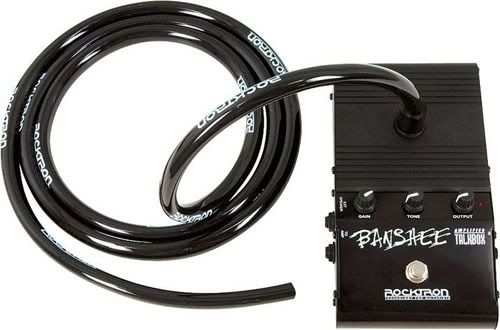 I remember the very first time I heard Frampton's "Do You Feel Like We Do". I was a kid hanging out at my friend Greg's house. He played his "Frampton Comes Alive!" LP for me (it was probably his Mom's), and told me "this guy can make his guitar sing". I was amazed.
For years I believed Frampton could actually make his guitar "speak". Of course, I later learned that he used a Heil Talk Box to make the magic sounds. The Heil works by intercepting the sound from the guitar/amp and channeling it up through a plastic tube taped to a mic stand. The end of the tube extends enough to direct the sound into Frampton's mouth. The shape of his mouth modifies the sound, which is then picked up by the microphone.
The Heil Talk Box was made famous by that classic LP, and by Joe Walsh (and me!) on "Rocky Mountain Way". Since then, the Heil has been used by many artists, and is currently manufactured by Dunlop.
I never owned or even tried a Talk Box until very recently. I became obsessed with owning one after seeing my favorite local band, Mr. Nice Guy, nail that Fampton tune. Tom Hall, the guitar player for MNG (and advisor to Kompoz.com) sounds more like Frampton than Frampton!
I was determined to learn how to do that.
So I started researching talk Box options. What I learned is that the Heil is a "passive" device. It requires external amplification. Typically you connect a cable from the speaker out of your Amp Head to the input of the Talkbox., then connect your 8 ohm speaker or speaker cabinet to the output of the Talkbox. This means you need to have long speaker cables between your amp head and cabinet. Kind of a pain.
After further research, I came across the Banshee, an "active" Talk Box manufactured by Roctron. The Banshee contains its own internal preamp, amp, and horn driver, which means that you do not have to connect it between your amp and speaker cabinet. Simply hook up the Banshee in-line with your other stomp boxes, hook the included tube to the mic stand and go! Easy and painless.
I love the Banshee and I'm having a great time learning a few Frampton tunes. Like everything else, it takes practice and patience. I did get to use it on the "Don't Belong" collab here on Kompoz.
---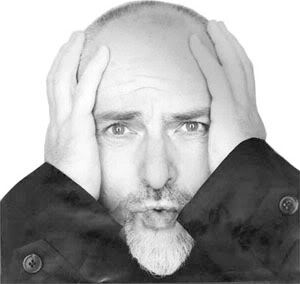 Rock legend, former Genesis front-man, Peter Gabriel has launched a new ad-supported free music download system called We7 (pronounced wee-seven).
All We7 music is DRM-free so consumers can legally share and play tracks on any MP3 player. What's the catch? We7 uses a 'patent pending MediaGraft engine' to attach a ten-second advertisement to the start of each track. Ads are attached based on a consumer's demographics such as location, age, gender and could even be extended to preferences.
After four weeks, users will be able to download ad-free versions.
According to the We7 site, "...every time you download a music track or clip from We7 a payment will be made to the artist. We do this by allowing some of the best companies and brands to include their messages with the tracks you download free. "
One person responding to a discussion forum posted "I'd rather be a poor musician than attach a commercial onto my album."
What are your thoughts? Would you, as a consumer, agree to four weeks of ads on a song knowing that you would get it ad-free thereafter? As a musician, would you agree to having ads grafted to your music?
---
Recent Posts
•
Unofficial K's Gathering Sept' 2013 Florida, USA


Mon, Feb 11, 2013 • 11:15 AM UTC



•
Fresh Staff Picks


Fri, Nov 23, 2012 • 06:38 PM UTC



•
We're Back Online


Tue, Oct 23, 2012 • 09:40 AM UTC



•
Using Tags to Organize Your Projects


Tue, Sep 18, 2012 • 06:58 PM UTC



•
Introducing 'Kompoz Konnect' Mac App


Wed, Aug 8, 2012 • 02:30 AM UTC



•
Facebook Sharing Update


Mon, Jul 30, 2012 • 12:15 PM UTC



•
Study shows Pop music all sounds the same


Fri, Jul 27, 2012 • 01:38 PM UTC



•
New Hire: Voice Professional


Wed, Jul 18, 2012 • 05:16 PM UTC



•
Kompoz Podcast Needs You


Sat, Jul 14, 2012 • 02:47 PM UTC



•
New Project Licensing Options


Wed, Jul 4, 2012 • 03:14 PM UTC



•
Kompoz for Android


Sun, Jul 1, 2012 • 11:24 PM UTC



•
Amazon AWS Outage


Sat, Jun 30, 2012 • 04:28 PM UTC



•
Kompoz Uploader (Windows)


Fri, Jun 29, 2012 • 11:34 PM UTC



•
Kompoz Lab: Sneak Peek


Wed, Jun 27, 2012 • 02:30 AM UTC



•
Fresh Paint


Wed, Jun 20, 2012 • 02:45 PM UTC



•
Your Kompoz Profile Changed


Sun, Jun 17, 2012 • 03:32 PM UTC



•
Kompoz Hearts Dropbox


Thu, Jun 14, 2012 • 12:37 PM UTC



•
Kompoz HD


Wed, Jun 13, 2012 • 04:15 PM UTC



•
Profile Shortcuts


Tue, Jun 12, 2012 • 12:18 PM UTC



•
Passwords Are So 'Last Week'


Mon, Jun 11, 2012 • 12:10 PM UTC