After the latest release of Kompoz over the weekend, you may have noticed a new "Meebo Chat" option in your "My Account" setup page. The new Meebo plug-in lets you chat with other Kompoz users right from their profile page. Meebo is a Web-based instant messenger (IM) that lets you access IM from absolutely anywhere. Meebo supports multiple IM services, including MSN, Yahoo, AOL/AIM, Google Talk, Jabber and ICQ.
Use the new My Account Meebo Chat feature to add a Meebo plug-in to your Kompoz profile quickly and easily. Once configured, your profile will display the Meebo chat widget only when a registered Kompoz member visits your profile (we'll hide it from non-registered visitors to the site).
The Meebo chat widget is somewhat customizable; you can choose the skin colors, text, background and header colors, as well as your username and the title of your chat module. Once the embed code is added to your profile, your Meebo chat module shows on the left side of your profile, beneath your photo.
Add Meebo to your profile and chat real-time with your current music collaboration partners!
---

I just read a great post on TweakHeadz titled "The Art of Recording and Processing Vocals". It's a long three-part article that covers everything from recording to post processing. This is the most detailed coverage I've seen online, replete with diagrams, illustrations, product considerations, and examples.
Be sure to read all three parts. The last page, which concludes with a 10-point "how-to" process for getting that perfect vocal sound, is my favorite. Rich the TweakMeister covers many topics including Time and Pitch correction, Spot Effects, Mastering, and Destructive Enhancements.
Huh? Destructive Enhancements? What's that?
Rich cites one example of a "destructive enhancement" with his discussion of track cleaning and breath control. Zeroing out dead space between phrasings and removing audible breaths. He notes that there is an ongoing debate about silencing breaths. Do you keep the vocalist's breaths in the recording or zero them out? If you take out all the breaths, the vocal will sound strange. Certain breaths are very musical, like the ones leading up to a loud part. However, there are usually some that are excessive or out of sync, or just get in the way. Those are the ones to remove.
Like any other recording technique, getting a good vocal takes practice. Thanks, Rich, for the great article. I'm adding it to my favorites.
---
You may have noticed the curious "Embed" code that appears on every track page, and on each project's home page. What's that for? Embed codes, made popular by YouTube and other Web 2.0 sites, allow you -- the site visitor -- to quickly and easily copy music or video into your blog, MySpace page, or any other Website. This is a great way to show off your latest masterpiece on your personal site!
Here's a quick guide on how to make it work...
In this first example, we're going to embed a track into a MySpace page. To begin, go to the track's page on Kompoz and click in the "Embed" code area, shown below.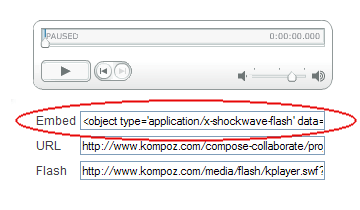 The code will be automatically highlighted for you when you click into the code text area. Next, copy it to your clipboard by either pressing CTRL+C, or by right-clicking and selecting the "copy" menu option.
Next, go to your MySpace page and click the "Edit Profile" link. Finally, paste the code from your clipboard into the "About Me" area (or any of the other edit areas) by pressing CTRL+V, or by right-clicking and selecting the "Paste" menu option. That's it! Save your profile and you're done!
Using Embed In a Kompoz Blog or Forum Message
You can also embed a track into your Kompoz blog. The procedure is slightly different because we use a fancy WYSIWYG editor for blogs and forum messages. Here's how to embed a track into your Kompoz blog or any Kompoz forum message.
Again, go to the track's home page, but this time, instead of clicking the "Embed" code, click into the "Flash" code, as shown below.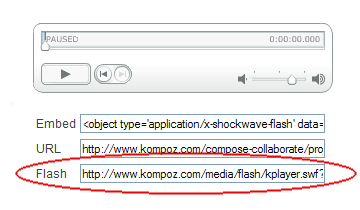 Next, go to your blog or forum message. Position the cursor in the editor where you want to embed the track. Click the "Insert / Edit Embedded Media" button on the toolbar (shown below).
An edit popup window will appear. Leave the default "Type" as flash. Paste in the Flash code in the "File/URL" edit field. Finally (very important), enter the values 300 and 70 in the two dimensions edit fields. The screen should look something like this:

Click the "Update" button and you're done!
This same technique applies to YouTube videos. Feel free to embed videos of yourself performing live! We wanna see 'em. Oh, and if you do embed a Kompoz track on another site, post a link here in the comments. We'd like to hear about it!
---
This is a great no-frills video showing John Mayer doing what he does best. He's an incredible guitar player, influenced by many, most obviously Jimi Hendrix and SRV. This video was taken during his visit to the Two-Rock shop outside of San Francisco. He was there working out the finishing touches on the JM signature model. Listen to how fluidly and effortlessly he plays "Slow Dancing in a Burning Room", from his latest CD "Continuum". In case you're hoping to get one of these amps, you better hurry -- only 25 will be made. Oh, and you better save your pennies because the price is $8,500 each!
---
Cardell started a forum topic earlier this week, posting some great songwriting tips. It started me thinking about collecting and categorizing such gems, and led me on a search for ideas. I quickly came across the "Songwriting Tips Project" hosted by our friends at BloggingMuses.com.
Anyone can contibute a tip. All tips are categorized into one of 8 general topics, such as melody, lyrics, song structure, and song titles (to name a few). Tips are immediately posted and available in the search feature. Here's one of my favorites from the database...
The best tip I ever got was from an incredibly clever lecturer from my university. He advised me that the most 'successful' music tends to be 90% familiarity, 10% originality.
This helped me to stop worrying about trying to be revolutionary with every rhyme, rhythm and chord change (which, by all accounts, seems to be impossible these days in the wake of so much progress).
---
My DAW of choice these days is Adobe Audition 2.0. I like Audition for a number of reasons, but if I had to pick my top 3, they would be 1) the elegant user interface, 2) the extensive array of features, and 3) the price.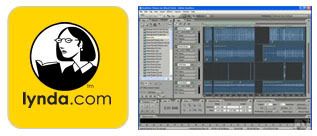 When I first got started with Audition (after reading a review), I do admit that I was a little lost and overwhelmed with all it had to offer. The manual was good, but I wanted something more hands-on and immediate. So I searched the Web for Audition training and tutorials, and struck gold with lynda.com.

Lynda.com offers over 19,000 online instructional videos covering a vast assortment of topics. I found awesome videos (over 6 hours worth) on how to use Audition 2.0. They also have videos covering Pro Tools LE, GarageBand, and general digital audio processing. Best of all, they offer some of those for free to give you a sense of the quality and value of the series.

Lynda.com charges based on an "all you can eat" monthly subscription model. Watch as much as you can for one low price, and cancel at anytime. They also have a discounted yearly and premium package. I opted for the $25 monthly model and watched as many videos as I could during that period. I definitely got more than my $25 worth on just the Audition titles alone.
---
I read a great post on the Portfolio Technology Blog about new technology created by the Library of Congress and the Lawrence Berkeley National Laboratory. Project I.R.E.N.E (Image, Reconstruct, Erase Noise, Etc.) was developed as a new imaging method to preserve and create digital reconstructions of recorded sound.

The technology can best be described as a scanner for your old LP records. It takes a high-resolution three-dimensional picture of the surface of a record with all its grooves. It then runs that through software that analyzes the image and recreates the sound. The software can take out scratches and hiss. Because no physical contact with the LP is required, it can even piece together music from the pieces of a broken record.

Here is a before and after of the song "Goodnight Irene," performed by The Weavers, from a 1950 shellac 78.
Don't bother checking your local Best Buy – this technology is not yet available in a desktop consumer model. But I'm sure it won't be long. I imagine a day when I'll be able to wave my iPod over that Frampton record …
[via portfolio.com]
---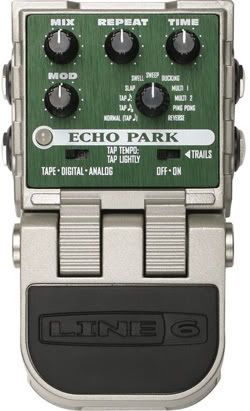 Earlier this week, I picked up a new Line 6 ToneCore Echo Park Delay Pedal. I really like this thing and plan to use it on an upcoming collaboration (I can't wait!). The pedal is loaded with well-implemented models including Analog, Tape, and Digital Delay. These are easily and quickly selected using a three-position switch on the face.
Tape - This gives you darker tone with each repeat just like a vintage tape-based echo.
Digital - This gives you straight up echoes, with crystal clear digital fidelity.
Analog - Designed to give you a vintage analog "bucket brigade" delay sound, with its classic warmth and warble.
In addition, there is a dial for selecting different delay patterns such as slap, ping pong, swell, and sweep. It also includes a "mix" dial for mixing in the amount of delay vs. standard signal. This really helps with tweaking the amount of processing you want in your sound.
Probably the coolest feature, and the one that sold me on this model over the Boss pedals, is the "Tap Tempo" feature. With Tap Tempo, you can use your foot to tap a couple times and have your echo match your tempo. Your first two taps establish the tempo and any additional taps will be averaged in.
To be fair, the Boss pedal I considered has a similar feature, but it is not as well implemented. With the Boss, you can also set the tempo using this tapping method. But to disengage all effects you have to press and hold the foot switch a few seconds. That makes it hard to turn off the effects immediately in-step with your live performance. With the Line 6 it's much easier. The Line 6 has a two position foot pedal. Simply press down harder (to the second position) to turn the effects on or off.
As if all that were not enough to make you want to go out and buy this pedal, it also has:
Stereo In/Out (other pedals are mono only)
"Trails Switch" (Set this on to keep Echo Park's processing engaged while in bypass, so your echoes smoothly trail away when you kick the effect off)
"Reverse" feature (flips your input signal around and sends it back to you in reverse)
---
EMI Music recently announced that it has retained Paul McCartney's solo catalog and is preparing a comprehensive re-launch, including new digital campaigns as well as physical re-releases. This means that, for the very first time, McCartney and Wings albums will be made available across all digital platforms.
Curiously, the McCartney catalog has begun to appear on iTunes' rival sites, Napster, Rhapsody, Urge and Zune, but not yet on iTunes. I say curiously because iTunes likes to be first to secure such big-name releases, and recently announced that it would offer exclusive pre-order for digital downloads of McCartney's newest album, "Memory Almost Full".
In a related story, there are now definite signs that the former Beatle is warming up to the online space. The video for his track "Dance Tonight" from his upcoming album "Memory Almost Full" will reportedly debut on YouTube today.
[via paidContent.org]
---
Recent Posts
•
Unofficial K's Gathering Sept' 2013 Florida, USA


Mon, Feb 11, 2013 • 11:15 AM UTC



•
Fresh Staff Picks


Fri, Nov 23, 2012 • 06:38 PM UTC



•
We're Back Online


Tue, Oct 23, 2012 • 09:40 AM UTC



•
Using Tags to Organize Your Projects


Tue, Sep 18, 2012 • 06:58 PM UTC



•
Introducing 'Kompoz Konnect' Mac App


Wed, Aug 8, 2012 • 02:30 AM UTC



•
Facebook Sharing Update


Mon, Jul 30, 2012 • 12:15 PM UTC



•
Study shows Pop music all sounds the same


Fri, Jul 27, 2012 • 01:38 PM UTC



•
New Hire: Voice Professional


Wed, Jul 18, 2012 • 05:16 PM UTC



•
Kompoz Podcast Needs You


Sat, Jul 14, 2012 • 02:47 PM UTC



•
New Project Licensing Options


Wed, Jul 4, 2012 • 03:14 PM UTC



•
Kompoz for Android


Sun, Jul 1, 2012 • 11:24 PM UTC



•
Amazon AWS Outage


Sat, Jun 30, 2012 • 04:28 PM UTC



•
Kompoz Uploader (Windows)


Fri, Jun 29, 2012 • 11:34 PM UTC



•
Kompoz Lab: Sneak Peek


Wed, Jun 27, 2012 • 02:30 AM UTC



•
Fresh Paint


Wed, Jun 20, 2012 • 02:45 PM UTC



•
Your Kompoz Profile Changed


Sun, Jun 17, 2012 • 03:32 PM UTC



•
Kompoz Hearts Dropbox


Thu, Jun 14, 2012 • 12:37 PM UTC



•
Kompoz HD


Wed, Jun 13, 2012 • 04:15 PM UTC



•
Profile Shortcuts


Tue, Jun 12, 2012 • 12:18 PM UTC



•
Passwords Are So 'Last Week'


Mon, Jun 11, 2012 • 12:10 PM UTC