Stop Making Farms, Start Making Real Music with Songster




Sat, Feb 25, 2012 • 11:00 PM UTC

- By

sanger
Imagine, having YOUR music on a Facebook Game for almost a BILLION people to hear!
Kompoz and Mowgli Games have been working on a way to do just that....

Presenting SONGSTER - the first collaborative music creation game on Facebook enabling people to create songs with their friends.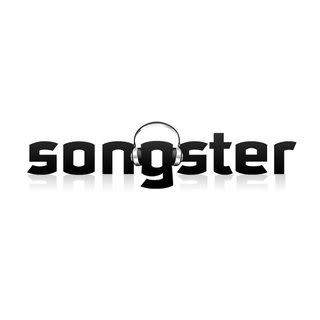 Mowgli Games came to Kompoz a few months ago with an idea to have YOU create songs for SONGSTER - think about it, at any given time there are upwards of 450 MILLION people playing games on Facebook - now YOU can capture that crowd with YOUR music - how's that for promotion and exposure - take that iTunes!!!!!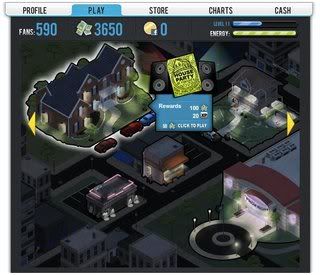 As part of the beta test, Mowgli Games has uploaded 3 tunes (see below), backing tracks for Kompoz singers to complete. There are examples of 'song-packs' (4 measure snippets of the complete tune), plus the entire track for you to sing to (no explicit lyrics - that goes for you too Kev). This beta test is open to all Kompoz members. We're looking for catchy hooks with simple lyrics - easy to piece together to complete a 'full' tune - the songs are only about a minute long and will be cut up into 4 measure "Song Packs" for game players to use.
Hip Hop Song



Country Song
Pop Song



A sanger sample for Songster


You can download the tunes here:
www.kompoz.com/member/MowgliGames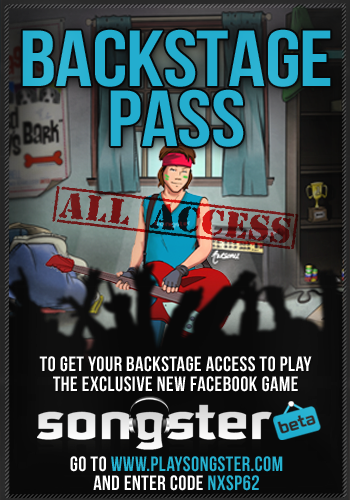 Once we have the offical launch of SONGSTER, only Kompoz PLUS members will be eligible to submit songs to SONGSTER - membership does indeed have it privileges




But sanger, what do we get for all are hard work?
In addition to your music being heard by MILLIONS of people, each artist will have a profile and get this.... a T-Shirt with your 'band', for the players to wear and when a player posts their song to Facebook, they'll be forever linked to YOUR music. Mowgli Games will also link to Kompoz.com, ReverbNation and your website, your Facebook music page and any other online asset you may have.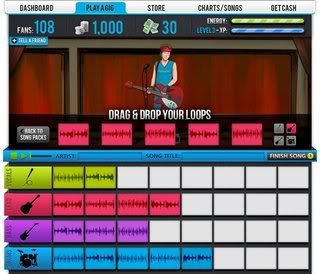 Future plans for product placements are in the works as well and with that may come some additional opportunities for you as a SONGSTER artist. For the time being this is a promotional opportunity for YOUR music. Rest assured at this time Kompoz is not collecting a single penny from Mowgli Games (they are a start-up much like Kompoz). Though as the game gains in popularity, we certainly will negociate a piece of the action for YOU and Kompoz



Raf & I both support and endorse our new partner - Mowgli Games - and we hope you will too.

So.... STOP Farming and getting Angry with Birds - start making music on SONGSTER!!!
For all you Facebookers go to www.playsongster.com and enter your backstage pass code: NXSP62 to check it out.
For more information about Mowgli Games and Songster, please visit:
Comments
JP on Mon, Feb 27, 2012 @ 05:14 PM UTC





That's a good market to tap.

sanger on Mon, Feb 27, 2012 @ 05:25 PM UTC





Here are some stats about facebook and the games people play - and there's lots of people playing online games....

http://www.allfacebook.com/facebook-games-statistics-2010-09

simplechain on Mon, Feb 27, 2012 @ 07:46 PM UTC





Way cool Steve! Kudos to you and Raf for setting this up!

VRun on Tue, Feb 28, 2012 @ 02:02 AM UTC





so stop the press. Songster is accepting snippets from Kompozers to get it off the ground? is that what this is saying? well, nobody else is talking. it's a little too quiet in here. ;)

Brannon on Tue, Feb 28, 2012 @ 12:44 PM UTC





I was working on Country Song 7. Where did it go?

fUzZ on Tue, Mar 6, 2012 @ 01:23 AM UTC





the only thing i like about this is the lefthanded guitarrist showing in backstage's pass picture

Casia-Lyricist on Mon, Mar 19, 2012 @ 08:30 AM UTC





Very cool! I wasn't inspired by any of those snippets though, where'd they come from :( ??

LittleLisa on Mon, Mar 26, 2012 @ 09:32 PM UTC





I gave it a try :) was pretty fun.

Breathtax on Tue, Mar 27, 2012 @ 01:37 AM UTC





Steve much as you seem to be trying to put your energies into reaching out and i'm not averse to fun... i trust you don't mind feedback..
please could you keep in mind that you essentially are caretaker for people's talents here on kompoz, as much as their short term enjoyment
i'm anxious that pairing up with a game will cheapen our endeavour.. .how about reaching out in more serious ways such as small scale film production houses and think-tanks..i feel the way is not to chase what is popular at the moment, but to carve new paths and thus CREATE the interest. and maybe it is upto us as users to help create these paths.. what do you think?

fUzZ on Sun, Apr 1, 2012 @ 09:40 AM UTC





so its clear that majority of kompoz community dont give a damn about the songster :)
Recent Blogs by sanger
•
"Wonderful You" by EG Holmes & his band of Kompozers


Sun, Jan 27, 2013 • 09:41 PM UTC



•
A Musical Journey - part I - sanger goes smooooooth


Thu, Oct 18, 2012 • 03:48 PM UTC



•
A Treat for a lazy Fall Sunday


Sun, Oct 7, 2012 • 03:28 PM UTC



•
Jet Pack is NEXT!!!!


Sat, Jun 30, 2012 • 11:26 PM UTC



•
The Quadri Project


Thu, Jun 21, 2012 • 04:39 PM UTC



•
MSI: Music Scene Investigations


Mon, Apr 30, 2012 • 04:19 PM UTC



•
Calling all Kompozers!!!!!


Sun, Mar 25, 2012 • 07:50 PM UTC



•
Tonite - The Cubanarama show with co-host sanger!!!


Sun, Mar 4, 2012 • 08:00 PM UTC



•
How to create a Songster Vocal track


Sat, Mar 3, 2012 • 11:30 PM UTC



•
How COOL is this????? More SONGSTER Stuff


Fri, Mar 2, 2012 • 12:52 AM UTC



•
Stop Making Farms, Start Making Real Music with Songster


Sat, Feb 25, 2012 • 11:00 PM UTC



•
PRIZE Winners!!!!


Wed, Feb 1, 2012 • 04:57 PM UTC



•
Cubanarama - Kompoz Tunes with Steve Gardner


Mon, Jan 30, 2012 • 05:41 PM UTC



•
Cubanarama - Featuring KOMPOZ!!!!


Thu, Jan 19, 2012 • 04:26 PM UTC



•
Kompoz on BlogTalkRadio - TONITE


Wed, Jan 18, 2012 • 04:32 PM UTC



•
The Top 3 WINNERS


Mon, Jan 16, 2012 • 04:37 PM UTC



•
Did Someone say PRIZES????


Sat, Jan 14, 2012 • 05:45 PM UTC



•
"It's Time with Brian Culbertson" TOP 20!!!!


Thu, Jan 12, 2012 • 05:52 PM UTC



•
PreSonus AudioBox - A very cool audio interface


Mon, Jan 9, 2012 • 04:58 PM UTC



•
Oh Ya - gotta get me some of these!!!!!


Mon, Jan 2, 2012 • 09:45 PM UTC