Review: Line 6 ToneCore Echo Park Delay Pedal




Thu, May 24, 2007 • 01:20 PM UTC

- By

raf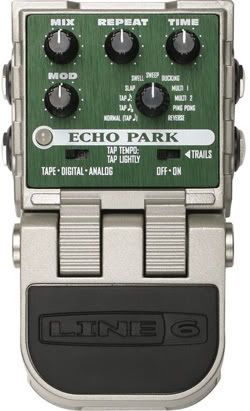 Earlier this week, I picked up a new Line 6 ToneCore Echo Park Delay Pedal. I really like this thing and plan to use it on an upcoming collaboration (I can't wait!). The pedal is loaded with well-implemented models including Analog, Tape, and Digital Delay. These are easily and quickly selected using a three-position switch on the face.
Tape - This gives you darker tone with each repeat just like a vintage tape-based echo.
Digital - This gives you straight up echoes, with crystal clear digital fidelity.
Analog - Designed to give you a vintage analog "bucket brigade" delay sound, with its classic warmth and warble.
In addition, there is a dial for selecting different delay patterns such as slap, ping pong, swell, and sweep. It also includes a "mix" dial for mixing in the amount of delay vs. standard signal. This really helps with tweaking the amount of processing you want in your sound.
Probably the coolest feature, and the one that sold me on this model over the Boss pedals, is the "Tap Tempo" feature. With Tap Tempo, you can use your foot to tap a couple times and have your echo match your tempo. Your first two taps establish the tempo and any additional taps will be averaged in.
To be fair, the Boss pedal I considered has a similar feature, but it is not as well implemented. With the Boss, you can also set the tempo using this tapping method. But to disengage all effects you have to press and hold the foot switch a few seconds. That makes it hard to turn off the effects immediately in-step with your live performance. With the Line 6 it's much easier. The Line 6 has a two position foot pedal. Simply press down harder (to the second position) to turn the effects on or off.
As if all that were not enough to make you want to go out and buy this pedal, it also has:
Stereo In/Out (other pedals are mono only)
"Trails Switch" (Set this on to keep Echo Park's processing engaged while in bypass, so your echoes smoothly trail away when you kick the effect off)
"Reverse" feature (flips your input signal around and sends it back to you in reverse)
Recent Blogs by raf
•
Thank You Pascal


Mon, Mar 4, 2013 • 01:48 AM UTC



•
We're Back Online


Tue, Oct 23, 2012 • 09:40 AM UTC



•
Using Tags to Organize Your Projects


Tue, Sep 18, 2012 • 06:58 PM UTC



•
Introducing 'Kompoz Konnect' Mac App


Wed, Aug 8, 2012 • 02:30 AM UTC



•
Facebook Sharing Update


Mon, Jul 30, 2012 • 12:15 PM UTC



•
Study shows Pop music all sounds the same


Fri, Jul 27, 2012 • 01:38 PM UTC



•
New Hire: Voice Professional


Wed, Jul 18, 2012 • 05:16 PM UTC



•
Kompoz Podcast Needs You


Sat, Jul 14, 2012 • 02:47 PM UTC



•
New Project Licensing Options


Wed, Jul 4, 2012 • 03:14 PM UTC



•
Amazon AWS Outage


Sat, Jun 30, 2012 • 04:28 PM UTC



•
Kompoz Uploader (Windows)


Fri, Jun 29, 2012 • 11:34 PM UTC



•
Kompoz Lab: Sneak Peek


Wed, Jun 27, 2012 • 02:30 AM UTC



•
Fresh Paint


Wed, Jun 20, 2012 • 02:45 PM UTC



•
Happy Father's Day


Sun, Jun 17, 2012 • 04:39 PM UTC



•
Your Kompoz Profile Changed


Sun, Jun 17, 2012 • 03:32 PM UTC



•
Kompoz Hearts Dropbox


Thu, Jun 14, 2012 • 12:37 PM UTC



•
Kompoz HD


Wed, Jun 13, 2012 • 04:15 PM UTC



•
Profile Shortcuts


Tue, Jun 12, 2012 • 12:18 PM UTC



•
Passwords Are So 'Last Week'


Mon, Jun 11, 2012 • 12:10 PM UTC



•
Music: It's in your head, changing your brain


Mon, May 28, 2012 • 02:24 AM UTC